So, if youre a follower on my @SpotiiCloggArt Facebook Page - you''ll have seen the latest post about my "new direction" for my arts practice.
This is the promised blog post... But first, some context!
Priscilla and I (and my Partner-in-crime Junita) Have been slaving away, posting wildly to facebook and instagram, to try an build more sales of our work.
Priscilla and I had an exhibition together in September last year, and again in March this year at the Old Schoolhouse Gallery in Cleveland (check out their Facebook and Instagram!)... Last year  we had workshops running and opened the gallery during the week (its only open Fri-Sat-Sun usually)... This saw a bump in sales, so we decided to open up the gallery again this time round, but without the workshops... Just regular hours from 10-2pm Mon-Thursday...
Yes, there was a bump up on sales, Yes this is common sense... But it was a bump up for every one of the artists selling though the gallery - not just our work... And especially at first it was very disheartening to see all my facebook advertising dollars and time at the gallery benefitting everyone except me!!! 
Don't get me wrong! I was happy that they were selling... I was just really annoyed that I wasn't (at that time) selling...
This led to the typical introspection that I'm sure we've all faced... The "woe is me...", the "what more can I do", the "am I in the wrong place", the "does my art just actually suck?", "is my pricing wrong", "what else can I do?" conversations that threaten to drown out any will to create art!
I had already priced really reasonably ($50 for a limited edition, mounted Linocut 15cmx15cm), Diligently advertised, posted out on the socials, had a newspaper article, had an opening night, opened the gallery (along with Cilla)... What MORE could I do???
Cue customer walking in and looking at a card made from one of my 30cm x 30 cm images from my first exhibition (AKA the Blue Series), and asking if I could do this image as a 15cmX15cm in Black and white for less than $50!
...!?!....
Well....
The Blue series, is called the BLUE series because it is a limited edition printed in BLUE! Not only that, it was cut at 30cm x 30cm!!!!! It took more than a WEEK to cut the image she likes, and she wants it for a quarted the price?!?
* So fourth wall break - what would you do??? What do you think I should do??? More importantly, what do you think I DID do??? *
I'll tell you what I did... I said YES! My first instinct was to say NO, and *insert the paragraph above about the blue series*...
But I said, "can I take your details, and look into that?"... And I did... I took her details and started looking into HOW I could take 8 days of carving and reduce the size, change the colour, and print it - for less than $50....
NO, I'm not a masochist, or crazy... (Well, not diagnosed anyway)... This was my retail and business brain taking over, and overriding my Art brain and Ego...
(remember - this was a customer WANTING to buy my art, but in a size and colour that better suited her needs...)
Man - am I glad retail brain did!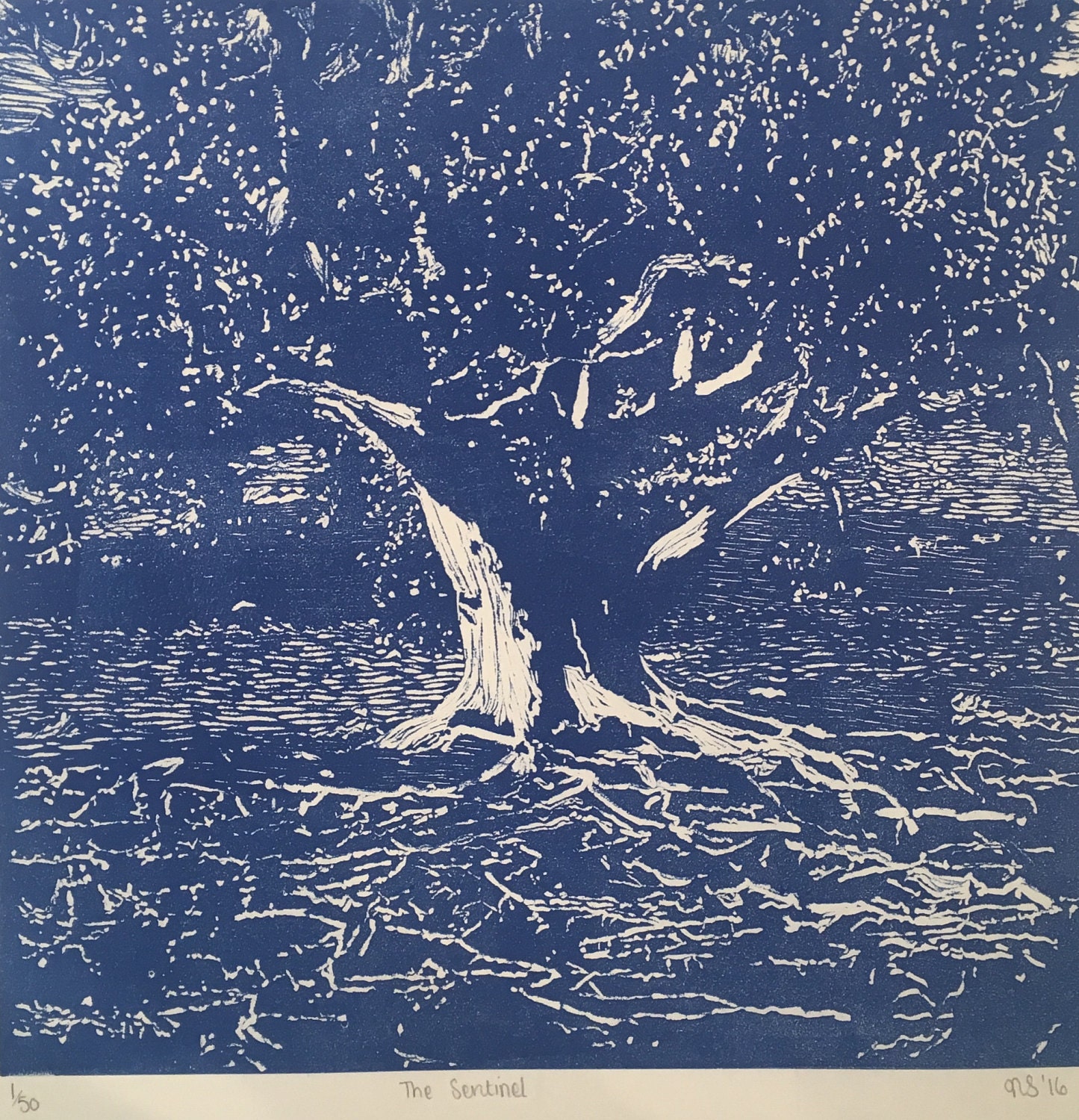 - The original Sentinel from the BLUE series - 
Looking back now, my hind-brain was linking up random bits of stored info, and my retail brain was problem solving... 
THE UNIVERSE WAS SHOWING ME THE WAY!!!
Within the next three weeks, I would attemd an Arthouse Reproductions workshop on "the six secrets to selling more art without lifting your brush", and their "Being Socially Acceptable as an Artist" (social media marketing)... I would contact a dear art friend who bought herself a Giclée printer... I would open an Esty store, and Launch this website, and BLOG...
But most importantly, I would see the way forward to making my arts practise more sustainable, and preserving my art!
(read my previous entry to understand the preserving art bit!)
So YES... I delivered (two days ago) a 15cm x 15cm "The Sentinel" in black and white (not blue) at $25 (last time it'll be that cheap!! Fair warning)... A Giclée reproduction of the original...
This glorious solution created a way for me to spend more time producing higher QUALITY art works, which I can then sell ORIGINALS of as Limited editions, and high quality reproductions of to satisfy a broader market!
Because I said Yes - I found a way to exponentially broaden my market... Because I said yes - I met Mark Lutz and Anthony from Arthouse Reproductions, who are helping me become (and I quote) "a real artist"...
And because I said yes... I was able to embark on a journey with my two local besties, and my Perth bestie Hayley Kruger (look her up)... I was able to share my epiphany with her, and twist her arm to look at high quality reproductions too...
* confession - she had sold the painting I liked to most (pre opening for her exhibition) and a Giclée is the only way I would be able to get that work... So not entirely altruistic, I would have told her about it in any case - I might just not have FORCED her to get everything photographed!?! ;) *
I now own limited edition reproduction 1/100 of the painting I liked!!! So I do NOT feel any guilt! I know that this is the BEST way for artists to take their work forward!
I can look at old work, change sizes of work to fit a clients space, and know that even if the original starts to fall apart - the reproduction will be there forever!
So THANK YOU Fransizka! I hope that your friends in Germany enjoy The Sentinel, and thank you for asking for (the previously) impossible... Solving your problem, has made me, and my arts practice grow... And has shown me the power of saying YES!